EZ50

DIY Powder Coating Cup Gun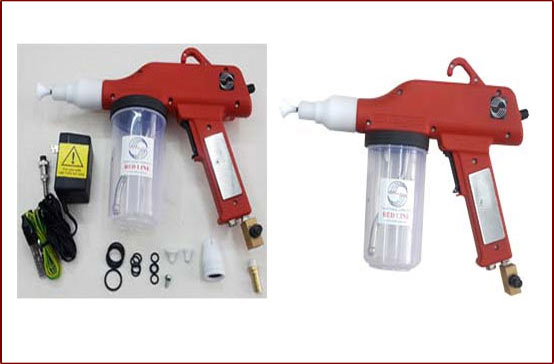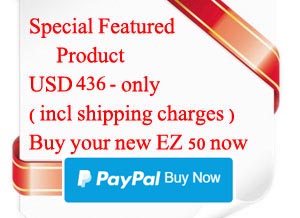 The All New High Performance RED LINE EZ50 DIY Powder Coating Gun - CUP
EZ50 Powder Coating Gun a unique DIY Powder Gun which do not need control panel, no hopper and no interconnecting cables, wires or tubes and is truly portable. EZ50 DIY Powder Coating Gun is an industrial grade 50kV high voltage generator (infinitely variable from on the gun itself) for unparalleled powder charging - no need to compromise with lower inefficient charging voltages. Ez50 Powder Coating Gun uses force-fed Technology for high volume uniform and consistent powder flow - comparable to some higher-end machines - adjustable with a flow controller on the gun itself hence No more shake and-spray!. The Powder Coating Gun is light-weight and perfectly balanced hand-held powder gun made from tough plastic for user-ease and comfort. Our Do it Yourself Powder Coating Cup Gun has a unmatched range of powder flow pattern generators - 12 mm, 15 mm and 20 mm and a special star-jet nozzle, inter-changeable at will - within seconds. The powder coating gun comes with power adapter that plugs into your wall socket and a separate ground cable with a large crocodile clip. Extra cups are available for storing different powders.
- Improved electrostatic charging – the highest in this category of powder coating cup-guns
- Consistent and smooth powder flow
- A range of nozzles and diffusers as standard equipment with every gun
And of course, the convenience of EZ sSeries powder cup-guns …
Plug into your wall power-socket
Connect a small air compressor line
Fill powder in the cup ...
... and you are ready. As simple as one, two three!
• No control panel required – high performance electro-pneumatics built into the gun itself
• No hopper required – large sized cup feeder (1 lb/0.5 kg capacity)
• No messy tubes or cables – all in-built
The EZ50 is a complete powder coating gun.
For the DIY coater - a hobby machine with unmatched results
For the professional coater – a low cost standby gun
For the entry-level coater – an ideal start-up gun
For the first-time coater - quality results at low investments
Powder charging: Controllable upto 50 kV
Powder flow: High performance ForceFeed technology for smooth uniform powder flow