Reciprocators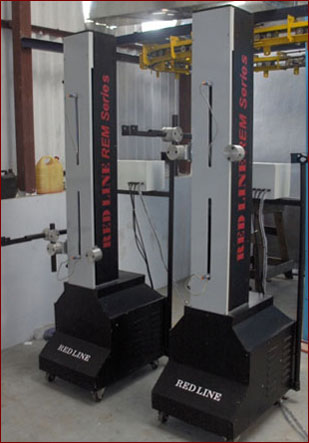 Highlights of the RED LINE Reciprocators
RED LINE's REM Series reciprocators are available in a wide range of configurations
- from standard electro-mechanical movement with electronic touch-controls for speed and ramp adjustments to Logic driven reciprocators with touch controls for speed, ramp as well as stroke length - upper lock and lower lock to fully automated systems well integrated with automation in the entire paint-shop.
These reciprocators are silent, smooth and well balanced for high quality coating results. All REM Series reciprocators come with electronic controls only.
REM Series reciprocators can handle 2 or 4 or 6 or 8 or upto 12 guns at a time in two vertical lines.
REM Series reciprocators are available for a wide range of stroke lengths - from 0.5M to 2.0M.
REM Series reciprocators are ideal for powder as well as for liquid paintshops.