Hyper Cyclone

Powder Recovery Booth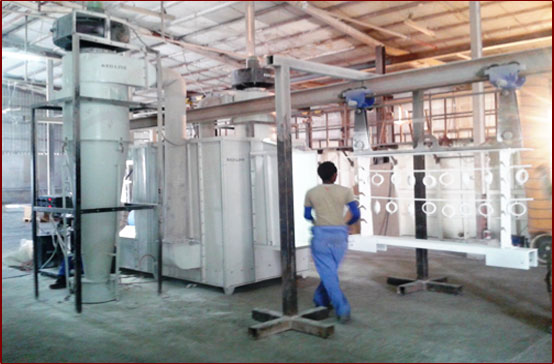 Highlights of the RED LINE HC Series Hyper Cyclone booths
RED LINE HYPER CYCLONE (HC) type powder recovery booths are the perfect recovery systems where frequent color changes are required. These booths provide genuine powder recoveries of 95-98% and often more - depending on the type of powder being used. After-filters ensures virtually clean air which can be recycled back into the shop-floor. Two types of after-filters are offered ??? [1] filter bags which require regular manual cleaning (thumping them to dislodge any powder cakes in them) and [2] filter cartridges with an automated reverse pulse jet cleaning system. HC booths are available in a wide range of models and sizes - from small batch booths to booths for multi-gun operations.
RED LINE Hyper Cyclone booths come in Single cyclone / Twin Cyclone /Triple Cyclone configuration ??? each driven by its own independent air extraction fan and motor.
All RED LINE Hyper Cyclone booths with filter cartridge type after-filters come with an optional end-filtration system using HEPA filters to ensure clean air back to the shop-floor.
All RED LINE Hyper Cyclone booths come with an optional automated powder recycling system ??? single point (SARS) or multi-point (MARS) ??? from the powder bin under the recovery system(s) to the master hopper feeding the spray guns after passing through the RED LINE PS Series powder sieving and arrangements for mixing with virgin powder in a settable ratio.