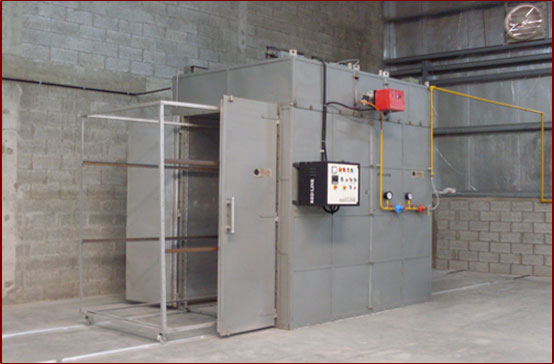 Highlights of the RED LINE fuel-fired powder curing ovens
Red Line is a Leading Manufacturer and Exporter of Fuel Fired Powder Curing Ovens offers a range of Powder Curing Fuel Fired Ovens Larger box ovens and tunnel-type conveyorised ovens often use a fuel-fired (L P gas/L N gas being the preferred source) heat exchanger or diesel-fired hot air generators as the source of heat energy. These heat exchangers and hot air generators are supplied and mounted as separate distinct entities or, where technically feasible, integrated in the oven itself for improved heat transfer characteristics and savings in shop-floor space.
Tunnel ovens maybe straight through ovens, camel-back (humped) ovens, or U- or S-looped ovens ??? depending on design requirements.
Fuel-fired ovens come with single or multiple heat exchangers or hot air generators, depending on specific requirements. Temperature range upto 2500C (4800F) available